At a glance
In 2022, Japanese encephalitis virus (JEV) was detected in humans, mosquitoes, and pigs across multiple Australian states, including Queensland.
In Queensland there were five locally acquired human cases of Japanese encephalitis (JE) reported in 2022. Prior to this, the last locally acquired case was reported in 1998 in Far North Queensland.
Queensland Health distributed JEV vaccine to a network of registered JEV vaccine service providers throughout Queensland for targeted vaccination.
The best way to prevent JE is to adopt mosquito bite prevention measures as well as targeted vaccination for those at high risk.
Introduction
Queensland Health has decades of experience responding to communicable disease outbreaks including influenza, coronavirus (COVID-19) and mosquito borne viruses such as Japanese encephalitis virus (JEV). The COVID-19 pandemic showed how:
Existing public health responses can be adapted and applied to new and emerging public health concerns.
Lessons from COVID-19 could be applied to future outbreaks.
One Health
The One Health framework (Figure 1) recognises that close contact between humans, animals and their environments provide opportunities for pathogens to pass between animals and humans.1 This contact can cause infection and disease. The changing climate, environmental landscape, and movement of people and animals can quickly spread diseases or vectors including outside the usual areas of distribution.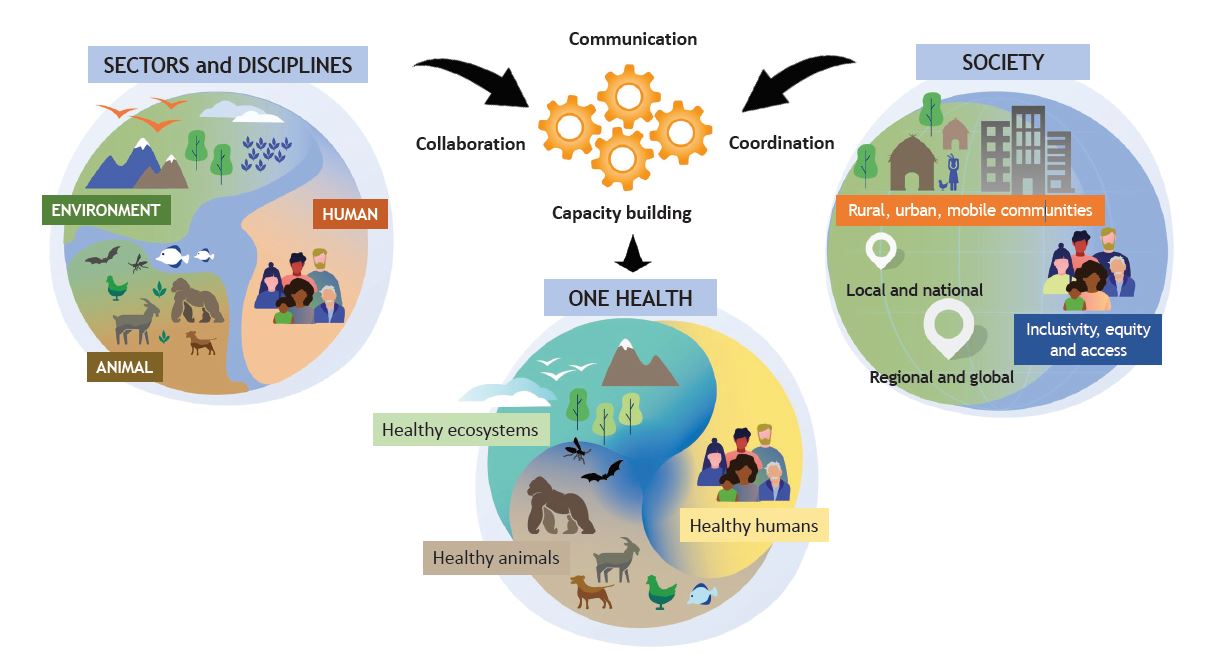 Japanese encephalitis outbreak
Prior to 2022, human infection with JEV had only been reported in the north of Australia (Queensland's Cape York and the Torres Strait Islands) with the last locally acquired case reported in Far North Queensland in 1998. The 2022 JEV outbreak was unprecedented because, from February to December 2022, there were concurrent detections of JEV in Queensland, New South Wales, Victoria, South Australia and the Northern Territory. These detections occurred in commercial piggeries, wild pigs, mosquitoes and humans. On 4 March 2022, Australia's Chief Medical Officer declared the JEV outbreak a Communicable Disease Incident of National Significance (CDINS). This occurs when a communicable disease or condition has potential to severely threaten human health and safety.
The JEV outbreak response highlights the benefits across sectors in health responses of sharing:
responsibility
resource management
communication
coordination.3
What is Japanese encephalitis virus?
JEV is an arbovirus transmitted by mosquitoes. Arboviral diseases are caused by a group of viruses spread to people by the bite of infected arthropods (insects) such as mosquitoes and ticks.4 Arboviral diseases are a subset of zoonotic diseases—conditions that can be transmitted from animals to humans.
Transmission
JEV involves a cycle of transmission between mosquitoes, animals and humans (Figure 2).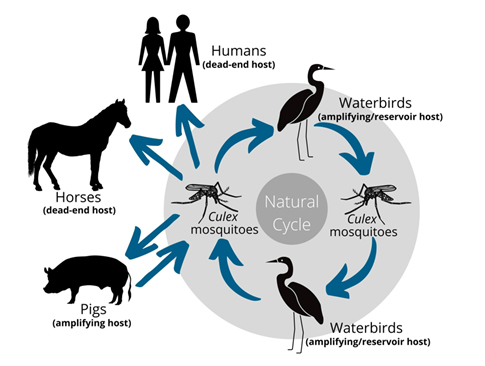 Mosquitoes are the "vector" that transmit the virus after biting an infected animal. There are a number of mosquito species involved in the transmission of JEV, including the widespread Australian species Culex annulirostris.5
Water birds and pigs can be infected by the bite of a mosquito. These animals can act as "reservoirs" because the virus can persist and amplify in these hosts.
Other vertebrate species such as horses, cattle, buffalo, and goats may be infected, but appear to be "dead-end" hosts. This means they will not reinfect mosquitoes and do not play a role in further transmission of JEV.
Humans are also "dead end hosts" and can only be infected with JEV through the bite of an infected mosquito. JEV cannot be transmitted directly from person-to-person or from infected animals to people. There is no risk of humans acquiring JEV from consuming pork or pig products.
The agricultural industry is sensitive to the impact of JEV as the virus can cause reproductive losses in pigs and encephalitis in other animals, such as horses. A One Health approach to JEV coordinates both human and animal health professionals to respond to infections in people and animals.
Japanese encephalitis
Japanese encephalitis (JE) is a vaccine-preventable disease caused by infection with JEV. A case of JE in a person is notifiable in Queensland. A notifiable condition is a disease, infection or condition of concern that is regulated by Public Health Regulation 2018.
Most people (about 99%) infected with JEV have no symptoms or have mild febrile illness with or without a headache. Those that develop symptoms may experience a sudden onset of high fever and headache, or abdominal pain and vomiting (particularly in children). Severe disease, which occurs in less than 1% of cases, may be characterised by an acute encephalitis (inflammation of the brain) with symptoms that often also include:
neck stiffness
disorientation
convulsions
paralysis
coma.
Of these severe cases, approximately one-third die, and one-third are left with permanent disabilities.
Outbreak investigation
Queensland cases
There were five cases of JE notified in Queensland as part of this outbreak. Unfortunately, one person died from JE in Queensland. Likely exposure areas within Queensland include the Darling Downs and the South West Hospital and Health Service regions.
National cases
As of 26 September 2022, there were 40 human cases of JE in Australia associated with the 2022 outbreak.5 Nationally, six people have died from JE during this outbreak.
Outbreak response
Queensland responded immediately to the detection of widespread JEV in 2022. A skilled, multidisciplinary public health workforce was deployed across the state. Queensland Health provided expert advice on multiple national and state committees and working groups to give guidance on the overall JEV response. This advice included:
case identification, alerts to clinicians in the affected areas and reporting
vaccination supply, distribution and promotion
vector monitoring and control.
Response strategies continued to be refined as the situation evolved.
Monitoring and control
Mosquito monitoring is used for JEV human and animal health risk assessment so that mitigation measures can be enacted. It also provides critical information for public health research and planning. Timely and open information sharing between key stakeholders supports local mosquito-based response plans.
The Queensland Health Communicable Diseases Branch (CDB) administers and supports statewide arbovirus monitoring in Queensland. These programs:
Assist in understanding arbovirus ecology and patterns of virus activity which risk human exposure.
Inform public health mitigation measures including public awareness, mosquito control, or both.
The 2022 outbreak of JEV in Australia highlighted the importance of mosquito-based arbovirus surveillance. These efforts were expanded in 2022 and into 2023 to better inform response measures and human case prevention.
Vaccination
The Communicable Disease Network Australia (CDNA) prioritised vaccination for people at high-risk of JEV exposure. In 2022, Queensland Health has commenced a targeted program to distribute vaccines to those at highest risk of exposure to JEV through a network of vaccine service providers across the state. Expansion of this network of providers is ongoing.
Providing information
Effective communication of important health information is an essential part of any public health response because it supports:
health providers in their planning and management of the issue, and
the general public to understand the risks and how they can respond.
As part of the JEV response in 2022 and into 2023, Queensland Health has prepared a range of information and resources for health providers and the public. It meets regularly with public heath units and other relevant agencies, and actively distributes public health messaging through websites and social media to provide information on JEV, including ways to reduce risks of exposure to the virus.
Wider engagement and communications occurred for general practitioners and clinicians at Queensland hospitals. Clinicians were alert for JEV in people presenting with encephalitis or other clinically compatible symptoms.
One Health response
Queensland Health is committed to a consistent and coordinated One Health approach to JEV. The One Health approach to controlling zoonotic pathogens at their animal source is the most effective and economical way to protect people.
An interagency Queensland JEV One Health Taskforce was formed in March 2022 and continues to provide high-level oversight to the JEV response. It includes representation from:
Queensland Health
the Department of Agriculture and Fisheries
the Queensland Local Government Association
Queensland Treasury
the Department of State Development
Infrastructure, Local Government and Planning
Department of the Premier and Cabinet.
The Taskforce:
reinforces the Queensland Government's use of a One Health approach to detect JEV in humans, animals and mosquitoes.
implements joint strategies to support public health outcomes as well as alignment to the National Plan.
Queensland Health has formally partnered with the Office of Industrial Relations and the Department of Agriculture and Fisheries (Biosecurity Queensland) to govern a flexible, comprehensive, all-hazards and multi-agency emergency management approach to zoonotic incidents. Importantly, the approach recognises both legislated and technical roles and responsibilities.
Future planning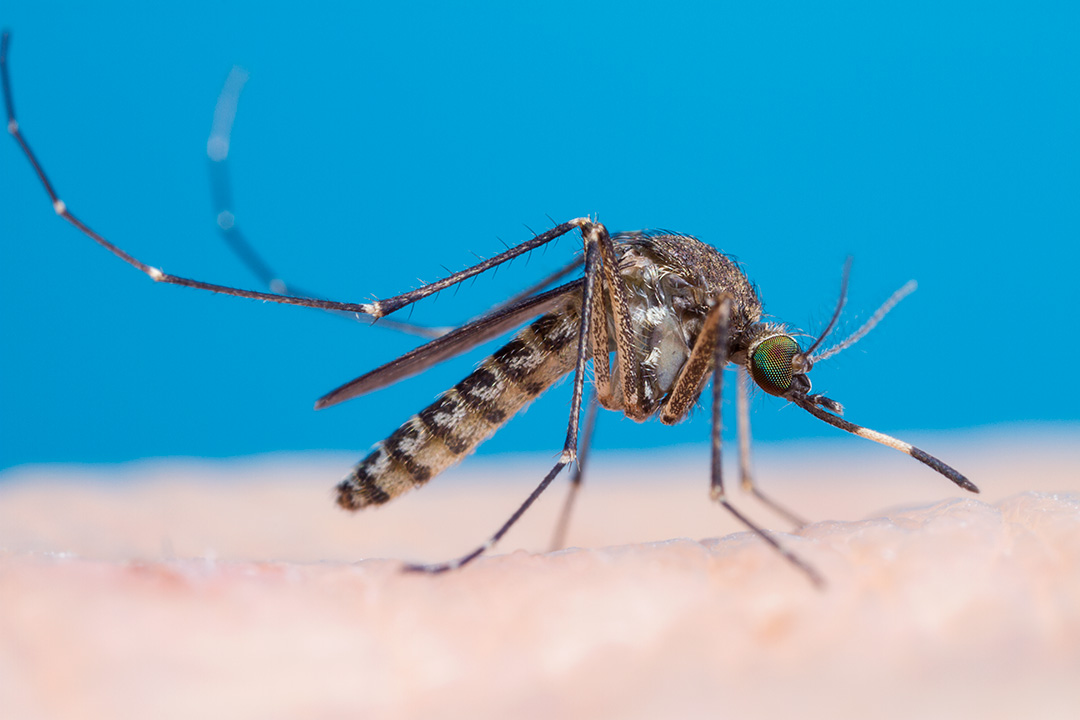 JEV detection in multiple jurisdictions in 2022 (in humans, mosquitoes, and pigs) indicated widespread JEV activity across Australia. It is unknown how long JEV transmission has been occurring and it is possible the virus is now endemic in many regions.
Future patterns of activity of JEV across Queensland are difficult to predict. Animal and mosquito monitoring across multiple seasons are required to provide insight into transmission cycles.
Outbreak risk is influenced by environmental factors such as temperature, humidity and rainfall which, in turn, determines the distribution and abundance of hosts and mosquito vectors. For example, widespread flooding and rainfall in 2022 led to increased mosquito numbers (including the assumed primary mosquito vector Culex annulirostris) and increased abundance and migration of water bird species that are hosts and reservoirs for JEV.
Long term, sustained JEV monitoring requires comprehensive understanding of vector, virus, and reservoir host ecology. Sustained monitoring is needed for the foreseeable future, even during periods when JEV activity appears to have subsided. A coordinated One Health approach will ensure that Queensland continues to address the risk of JEV to the community.